Engagement
ICAL offers the unique combination of expertise in the fields of paleontology, archaeology, geology, biology, physics, chemistry, and engineering, allowing us to reach a broad audience from early learning education to adult science enthusiasts.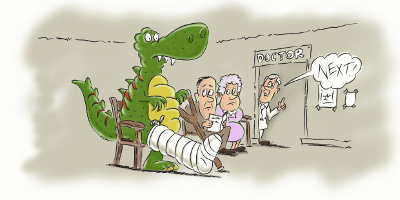 We have experience in classroom, festival, and event outreach including the Manchester Science Festival, the Royal Society Summer Science Exhibition, Cheltenham Science festival, Pint of Science, and more. We are able to tailor our event to any age or size of audience!
On Television and Radio
ICAL members have frequently featured on television and radio, promoting engagement with our research. In the last few months on television, our members have appeared on BBC News and The One Show, as well as contributors to National Geographic, Discovery Channel and Channel 4 and 5 documentaries.
On radio, we are often interviewed by both local and national news about our research, and to give opinions on developments in our fields of expertise. We have also been recently featured on the 'Naked Scientists' series of podcasts.
In print
Members of ICAL have been involved for several years in engagement through the medium of print. Professor Phil Manning has written several books on Dinosaurs aimed at children, and popular write ups of the groups' research have appeared publications including La Recherche, New Scientist, Scientific American and the Times.
Resources
Our unique resources include:
Access to a number of fossil, archaeological, and biological specimens. These include casts of early hominids, fossils from all over the world including a full Gorgosausus skeleton, and a wide range of modern bones.
Presentations by world-renowned scientists from the University of Manchester. See our staff page for the wide range of research topics available for presentation.
Professionally constructed exhibits designed for both large and small spaces, including interactive stations for all ages. These include two Royal Society Summer Science Exhibition designs.
Access to cutting edge technology, which may be used as interactives, allowing the public to experience the newest technologies available first hand. Possible interactive techniques include Lidar scanning and surface scanning.
Skype interviews with one our researchers while they are in the field or abroad.
If you are interested in scheduling a program with us, please get in touch.
▲ Up to the top